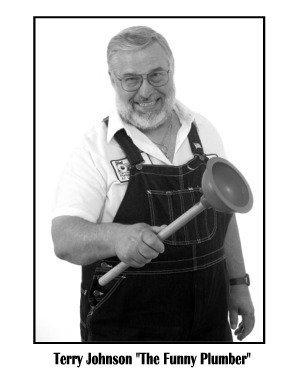 Terry was conceived before broadcast television on March 21st, 1941 at the Hotel Syracuse in Syracuse, New York. It was a dark and wet day. His Mother says the sun was shining but it was pretty dark and moist where Terry was. Yes, that was before World War II.

His Mother wanted a little girl, hence the name "Terry". Poor Terry had to wear pink until he finally stood up to his Mother in kindergarten when he told her he wasn't going to wear the pink dress ever again. By the way, he does take the "pink dress" out of the closet on rare occasions.

Over the years Terry has been married four times, not counting weekends, and raised four daughters as a single parent. His last marriage was for a "Green Card"!

He has worked for over forty years in and around the plumbing, heating and air conditioning business. He loves to fix heating and air conditioning systems and will probably continue until "death due us part". Note: If you need your heating or air conditioning system repaired just click here.
Terry loves to make people laugh and started in "Show Biz" on the road as a professional clown with his wife and four children in 1973. He has performed at hundreds of school auditorium shows and county fairs in seven states. Terry was The New York State Fair Clown performing to over a half a million people. Most people say he's still a clown!

Terry has done hundreds of shows as a stand-up comedian throughout Southern California and as far east as New York and can be seen doing stand-up at places like the Improv, Ice House, Comedy Store, and the check out line at Ralph's and Albertson's.

Terry has studied making funny with Jeff Jena, Bill Word, Chris Keene and the famous circus clown, "Buster the Clown".

The "Funny Plumber" spent an intensive year studying film making with Nicholas Ray, the director of "Rebel without a Cause", "Giant" and "East of Eden". Yes, he does have stories about that part of his life.

Terry spent four years as Associate Producer of "California's Funniest Female Contest", "Ultimate Laff-Down", "Orange County's Funniest Person Contest" and "Orange County Comedy Festival".

Today, Terry "The Funny Plumber" Johnson is "The Funniest Plumber in America and that's no crap!" says Showbiz Central Network.

Terry has "Extreme toilet humor and then some…." per REEVES JOURNAL editor Scott Marshtz.

Terry not only performs for, but produces benefit shows and fund raisers for clubs and organizations. He produced a weekly show "Comedy in Recovery" aka: "Good News, Bad News Show" at 9:30 PM at different venues throughout Southern California. His show was known in the comedy industry as the "Best workout room in Southern California" and that is no crap. [More plumber talk!] This show ran for over eight years and is still available for select venues.

Terry and his 87 year old Mother, Jean Chinea, did a wonderful, warm and very funny "Mother and Son" act with more than 154 years between them. Terry's Mom always said the name should be changed from "Funny Plumber and Mom" to "Funny Mom and the Plumber"
There are some funny videos of Terry and his Mom on the video page as well as the Funny Plumber being himself.
Terry and his wife, Daeng, now live in Thailand six months of the year and work to help children along the Myanmar (Burma) border have food, shelter, school and a friendly environment to learn. Watch the video "Childlife", on HOME page, to see more about their efforts.